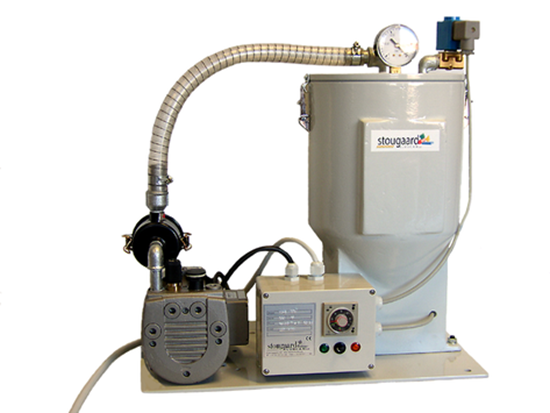 Polyloader is a series of fully automatic hopper loaders that assures a constant material height in the hopper f the production machine, or in the pre-dryer polydryer.
Polyloader is a fully automatic loading system that offers a rational solution to all bulk conveying problems. The electrical motors are protected by filter bags which can be easily cleaned or replaced. The suction pipe, which is connected to the flexible suction hose can be placed in a material container or silo, and the material will then be transported by the vacuum. The adjustable suction period is automatically interrupted and a new suction period restarts automatically when the bottom flap closes.
The PL5 is equipped with a vacuum pump driven by a 3-phase motor and is particularly suitable for conveying free-flowing powdered materials also ceramic powders.
Compressed air can be connected via the solenoid valve in order to clean the filter bag. The maximum capacity is app. 800 kg/h (PL5-Mini 500 kg/h) to a height of app. 4 meters from a container or sack at the side of the machine. The maximum suction length is app. 10 meters. No lubricants are needed.​