MGK 2121R-2 by Continator is a newly-designed grinding machine intended for setup in connection with injection moulding machines. The special construction makes it occupy very little floor space.
The hoppers large feed opening ensures that the sprues, that are automatically cut off, easily fall into the granulator. The stainless steel hopper is equipped with sound damping. The shape of the hopper makes it very suitable for placing directly by the injection moulding machine. the slow running rotor of the granulator with the directly mounted flywheel ensures a very large capacity with power enough to grind sprues, as well as moulded parts are easily grinded. The special design ensures a very regular grinded material, almost free of dust particles.​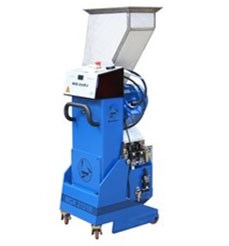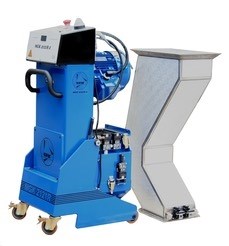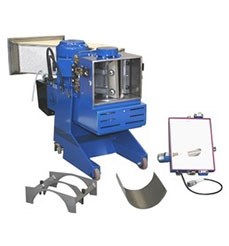 The knives are made of high alloy steel and have a large scissor cutting edge when in operation. Easy cleanings obtained by tilting the granulator downwards 90˚ and hereafter easily removing screen holder and screen. The hopper is mounted with quick-release clips. The standard type of this granulator comes with a built-in rotary level control in the catch box and an hour counter on the control panel. Specially designed hoppers, compressed air conveying systems and PR screen systems are optional.​
Technical specifications
Hopper opening: 470x280 mm.
Smallest passage in hopper: 190x210 mm.
Motor: 2.2 kW - 950 rpm.
Rotorspeed: 180 rpm.
Voltage: 3x400 Volt, 50 Hz.
Catch box: 11 litre contents with 38 mm suction inlet.
Hour counter: Mounted on control panel.
Level control: Rotating and mounted in the catch box.
Rotating knives: 3 pcs high alloy steel.
Fixed knives: 2 pcs high alloy steel.
Screen hole diameter: 4.0 mm - Alt. 3.0 - 3.5 - 4.5 - 5.0 - 5.5 - 6.0 - 8.0.
Start equipment: direct on line.
Safety switch: Mechanical type with key.
Level control, rotary: Mounted in the catch box.
Flywheel weight: 48 kgs.
Capacity max: 45 kgs/hour.
Net weight: 235 kgs.
Gross weight: 260 kgs.
El.control: Complete with safety switch for material catchbox and thermo-overload protection circuit.
Optionals: Built-in compressed air conveying system, tooth belt operation, PR screensystem.​
The knives are made of high alloy steel and have a large scissor cutting edge when in operation.